Welcome to the breathtaking world of Poseidon Beach Hotel in Hikkaduwa! Nestled along the stunning shores of Sri Lanka's southern coast, this beachfront oasis offers a truly unforgettable experience for travelers seeking relaxation, adventure, and everything in between. With its prime location, impeccable room facilities, and an array of exciting outdoor activities, Poseidon Beach Hotel is the perfect destination for your next getaway. So pack your bags and get ready to immerse yourself in luxury and tranquility at this remarkable beach side retreat!
Poseidon Beach Hotel Location
Located in the vibrant coastal town of Hikkaduwa, Poseidon Beach Hotel boasts a prime position right on the golden sands of Sri Lanka's southern coastline. This tropical paradise is just a stone's throw away from the crystal-clear waters of the Indian Ocean, offering guests unparalleled access to pristine beaches and breathtaking sunsets.
The hotel's location is not only an invitation to relax and unwind by the sea but also serves as a gateway to explore the wonders of Hikkaduwa. Just minutes away from the hotel, you'll find an abundance of bustling markets, charming cafes, and vibrant nightlife that will awaken your senses and immerse you in local culture.
For nature enthusiasts, Hikkaduwa offers incredible opportunities for wildlife encounters. Embark on a thrilling snorkeling or diving adventure to discover colorful coral reefs teeming with marine life. Or take a boat ride along the Madhu River to witness exotic birds, mangrove forests, and traditional Sri Lankan village life.
With its convenient location near major transportation hubs such as Colombo International Airport, Poseidon Beach Hotel provides easy access for travelers looking to explore more of this beautiful island nation. Whether you're seeking relaxation or adventure, this beachfront haven puts you at the heart of it all!
Poseidon Beach Hotel Room Facilities
Poseidon Beach Hotel offers a range of comfortable and well-equipped rooms to ensure a pleasant stay for all guests. Each room at the hotel is designed with modern amenities and stylish decor, creating a cozy and inviting atmosphere.
The rooms are spacious and feature comfortable beds with crisp linens, ensuring a good night's sleep after a long day of exploring Hikkaduwa. They also come with air conditioning, allowing guests to adjust the temperature to their liking and escape from the heat outside.
For those who need to stay connected, each room is equipped with free Wi-Fi access. This allows guests to browse the internet, check their emails or connect with friends and family back home without any hassle.
The en-suite bathrooms are clean and modern, featuring showers with hot water facilities. Guests can freshen up before heading out or relax under warm water after a day spent at the beach.
Poseidon Beach Hotel provides comfortable and well-appointed rooms that cater to the needs of every traveler. Whether you're visiting Hikkaduwa for business or pleasure, you can be assured of a relaxing stay in one of their thoughtfully furnished rooms.
Poseidon Beach Restaurant
The Poseidon Beach Hotel is not only known for its stunning location and comfortable rooms, but also for its exceptional restaurant.
 Located right on the beachfront, the hotel's restaurant offers guests a truly unforgettable dining experience. With breathtaking views of the ocean and a relaxed atmosphere, it is the perfect place to enjoy a delicious meal.
 The menu at Poseidon Beach Hotel Restaurant is diverse and caters to all tastes. From fresh seafood caught daily by local fishermen to mouthwatering Mediterranean dishes prepared with locally sourced ingredients, there is something for everyone.
 Guests can choose to dine indoors or outdoors on the terrace overlooking the sea. The attentive staff are always ready to recommend their favorite dishes or wine pairings to enhance your dining experience.
 Whether you're looking for a romantic dinner for two or a family-friendly meal, Poseidon Beach Hotel Restaurant has got you covered. With its welcoming ambiance and delectable cuisine, it's no wonder that it has become a favorite among both hotel guests and locals alike.
 So why settle for anything less when you can indulge in exquisite meals while enjoying panoramic ocean views? Experience culinary excellence at Poseidon Beach Hotel & Restaurant during your stay!
Poseidon Beach Hotel is not just a place to relax and unwind, but also a paradise for outdoor enthusiasts. The hotel offers an array of thrilling activities that will keep guests entertained throughout their stay.
Scuba Diving
For those who have always dream of exploring the underwater world, Poseidon Beach Hotel has got you covered. With its prime location on the coast, the hotel provides easy access to some of the best scuba diving spots in the area. Whether you're a seasoned diver or new to the sport, experienced instructors are available to guide you through unforgettable underwater adventures.
Snorkeling
If snorkeling is more your style, Poseidon Beach Hotel has crystal-clear waters teeming with vibrant marine life waiting to be discovered. Grab your mask and fins and get ready for an up-close encounter with tropical fish, colorful corals, and other fascinating creatures beneath the surface.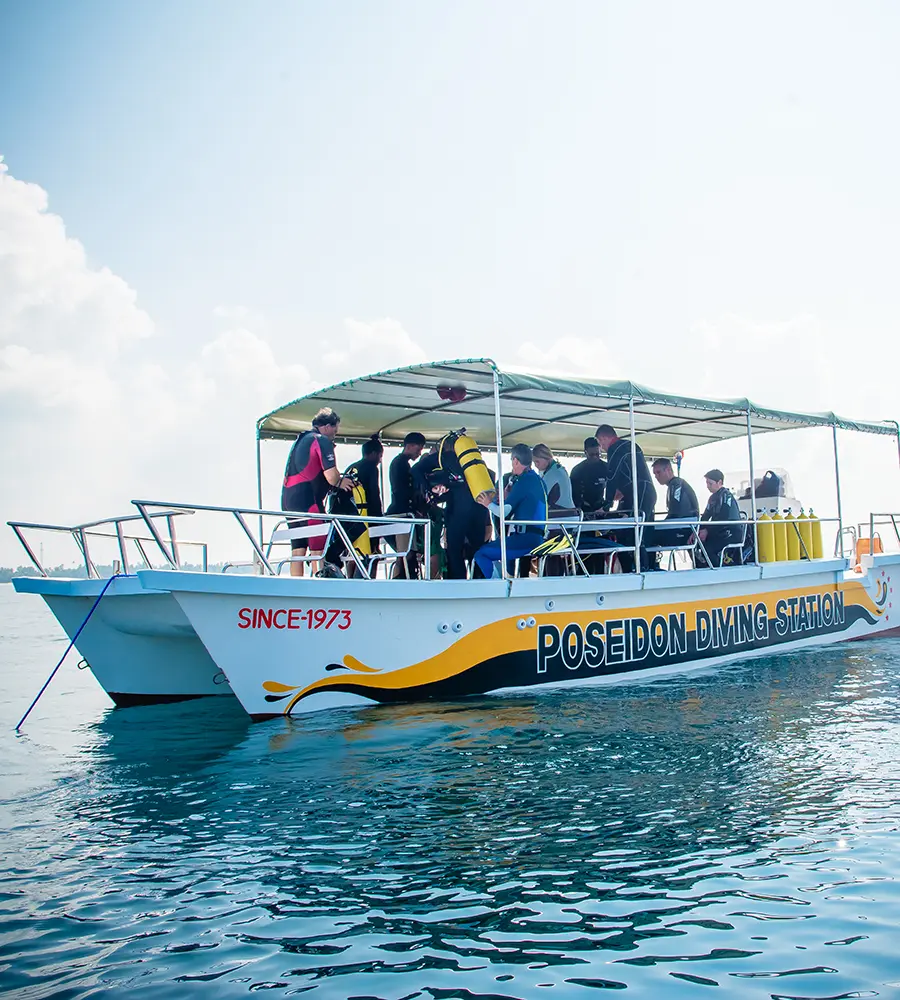 Special offers for Scuba Diving Groups
Are you a scuba diving enthusiast looking for the perfect destination to explore underwater wonders? Look no further than Poseidon Beach Hotel! We understand your passion for diving and have designed special offers specifically catered to scuba diving groups.
At Poseidon Beach Hotel, we offer exclusive packages that include accommodation, meals, and guided dives. Our spacious and comfortable rooms provide a relaxing atmosphere after an exhilarating day of exploring the depths of the ocean. With stunning views of the beach or garden from your window, you'll wake up refreshed and ready for another adventure.
Our restaurant serves delicious meals prepared with fresh local ingredients. Whether you prefer seafood specialties or international cuisine, our experienced chefs will satisfy your taste buds. Enjoy a hearty breakfast before heading out to discover vibrant coral reefs and fascinating marine life.
As part of our special offers for scuba diving groups, we provide access to top-notch equipment rental facilities on-site. No need to worry about lugging heavy gear around – simply dive in and start exploring! Our experienced dive instructors will guide you through captivating underwater landscapes while ensuring your safety at all times.
With its prime location by the beach, comfortable accommodations, delectable dining options, and specialized offers for scuba diving groups, Poseidon Beach Hotel is truly a haven for water enthusiasts seeking unforgettable experiences beneath the waves. Book your stay now and embark on an extraordinary underwater journey!