Facilities
Poseidon Diving Centre Hikkaduwa & Nilaveli
Sri Lanka has recently emerged as one of the best diving spots in the world, thanks to its vibrant coral reefs, diverse marine life, and abundant shipwrecks. And when it comes to diving in Sri Lanka, Poseidon Diving Center is the name to reckon with. This award-winning diving center is not only Sri Lanka's largest diving center but is also renowned for its top-notch facilities, excellent customer service, and unwavering commitment to safety and sustainability. 
We have 40 sets of Aqualung and Scuba Pro dive equipment for rental and students. We use 12L aluminum INT tanks and can provide 15L and 10L on request. Wet suits are 3mm shorties. All are serviced by UK trained Aqualung and Scuba Pro equipment technicians.
Poseidon Diving Centre Hikkaduwa and Diving Centre Nilaveli has a strict equipment maintenance policy, which ensures that all the gear is in top condition and ready for use at all times. Besides, Poseidon's equipment is well-maintained and regularly replaced, thereby ensuring the highest levels of safety, comfort, and performance. From regulators, BCDs, and tanks to wet suits, masks, and fins, Poseidon's equipment is well-suited to the needs of divers of all levels.
The classroom at Poseidon Diving Center Sri Lanka is equipped with top of the line training materials and equipment. More over, their instructors use high quality presentations to teach the theoretical aspects of diving before taking you out into the open water. They also offer e-learning facilities, allowing you to complete diving courses online before even getting into the water. In the centre we have a fully air-conditioned classroom for all the courses and a diving equipment sales centre for Aqualung and Beaver products. We provide free Wifi for all premises.
We use Bauer K15 and Mariner 320 compressors for air fills, and a Coltri-Sub Nuvair for Nitrox. All are fully maintained and serviced with quarterly air tests. We have Nitrox and provide training in enriched air diving.
We have some artifacts from discovering the wrecks in the early 1970s, these are housed within the centre for public view. Along with this there is a collection of some of the original diving equipment used at the beginning of diving here in Sri Lanka.
We have three diving boats based at Hikkaduwa. The two large catamarans can each carry up to 14 divers with twin 60hp Mercury 4-stroke engines, tank racks and shaded seating area. Our smaller boat can carry up to 8 divers and has 40hp outboard engine, tank racks and shaded seating area. All boats carry full oxygen and first aid kits.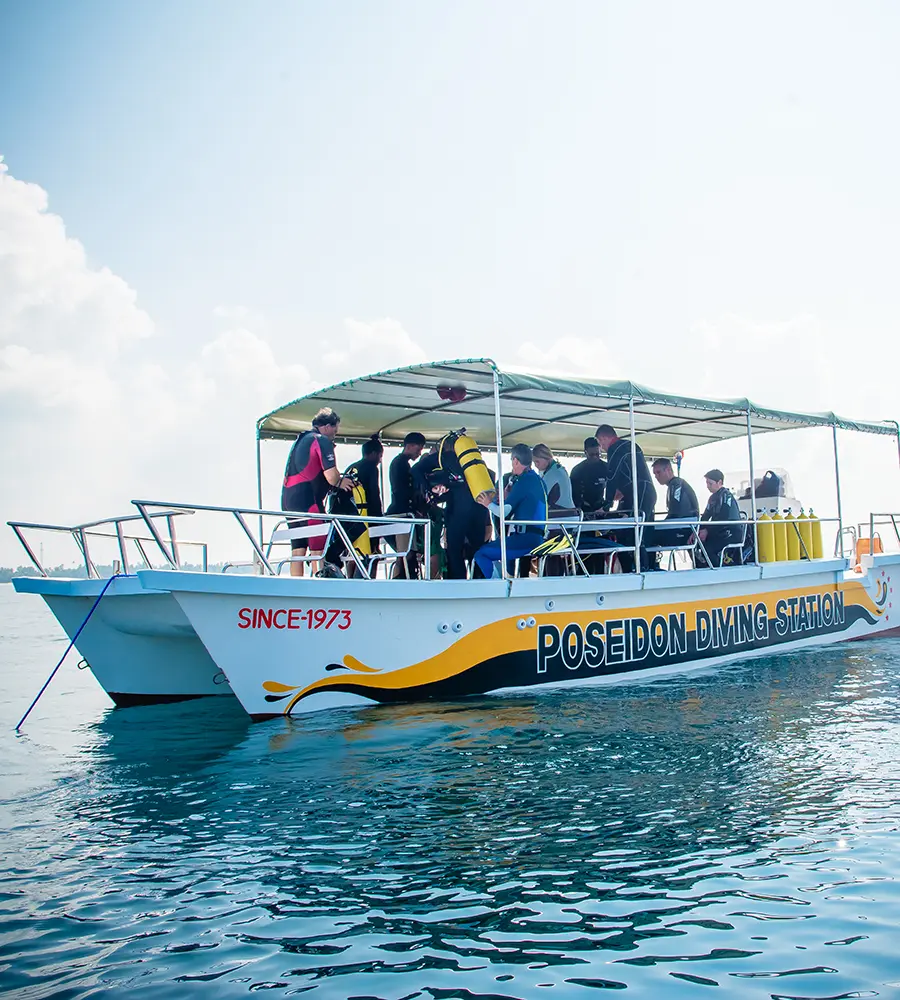 Accommodations at Diving Centres
We provide accommodation for our course followers.Poseidon Diving centre Hikkaduwa has a 17 room hotel and restaurant on the beach. Land side we have fully luxury private Villa name is Riverstone By Poseidon
At Poseidon Diving Centres, we understand that effective communication is essential to your diving experience. That's why our instructors and staff are fluent in multiple languages, ensuring that you can communicate with ease and clear understanding. Whether you're a beginner or an experienced diver, our team will make sure you have a comprehensive understanding of the equipment, safety protocols and techniques used to explore the underwater world.
After a long day of diving, it's great to relax and enjoy a meal. Poseidon Diving Center Sri Lanka offers an on-site restaurant, serving fresh and delicious local and international cuisines. You can also enjoy a cold drink while watching the sunset over the beach.
Poseidon Diving Centre provides cash payments, card payments, and an online payment facility, and we offer a friendly cancellation and refundable policy. Special Discounts for online bookings.