padi professional courses
When it comes to padi professional diving courses, Poseidon Diving Sri Lanka offers an impressive range of options that can take your diving career to new depths. The PADI Instructor Development Course (IDC) is a comprehensive program designed to hone your skills as a scuba diving instructor. With experienced PADI instructors leading the way, you'll gain the knowledge and confidence needed to teach others how to explore the underwater world safely.
For those looking to expand their horizons even further, the PADI Dive Master course is a must try. This program takes your skills as a diver to the next level by focusing on leadership and supervision. As a certified PADI Dive Master, you'll be qualified to assist dive instructors with training and guiding divers of all levels. From organizing dive trips to fine tuning your rescue skills, this course will prepare you for a rewarding career in the diving industry.
In addition to these courses, Poseidon Diving Sri Lanka also offers the PADI Emergency First Response (EFR) certification. This program equips divers with essential first aid and CPR skills that can be used in emergency situations both above and below water. By learning how to respond quickly and effectively in crisis situations, you'll become an invaluable asset in any dive team.
Whether you're just starting your journey or looking for advanced certifications, Poseidon Diving Sri Lanka has something for everyone. With instructors and breathtaking dive sites right at their doorstep, there's no better place to take your passion for diving.
PADI Professional Courses with Price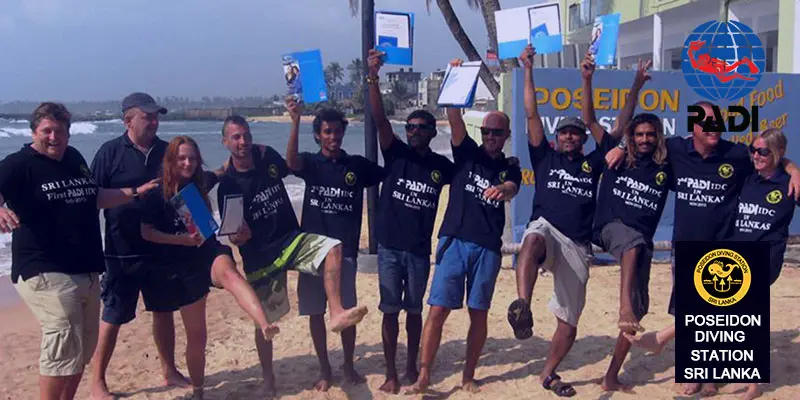 Instructor Development Course (IDC)
Looking for a career change? Explore our PADI Professional Courses and sign up for the Instructor Development Course (IDC) to become a dive instructor.
Emergency First Response Provider (EFR)
Enhance your diving career with PADI Professional Courses as an Emergency First Response Provider. Gain essential skills to handle emergencies underwater.
Divemaster Certification Course
Dive into the world of PADI Professional Courses and become a certified Divemaster. Take the next step in your scuba diving career.

Poseidon Diving Sri Lanka
Welcome to Poseidon Diving Sri Lanka, your ultimate diving destination in the beautiful island of Sri Lanka. Our team of experienced and passionate divers are dedicated to providing you with the best diving experience possible. Join us on an unforgettable adventure as we explore the underwater world of Sri Lanka together. Let Poseidon Diving be your trusted partner for all your diving needs.
Galle Road, Hikkaduwa, 80240, Sri Lanka.
Trincomalee Diving Centre
09th Mile post, Nilaveli, Trincomalee, 31000, Sri Lanka.