Professional
Instructor Development Course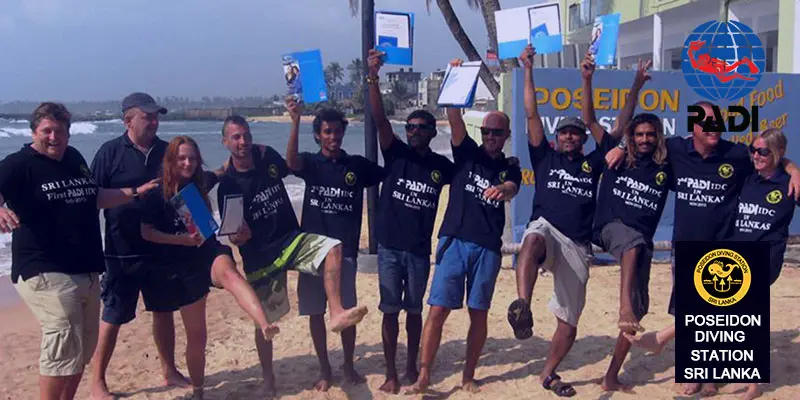 Piratical : Poseidon Diving Centres
Hikkaduwa  (November – April)
Nilaveli  (April – October)
How to Become a Diving Instructor?
Becoming a PADI Diving Instructor requires more than just being an expert diver. You also need a strong desire to teach, a deep respect for the ocean and its inhabitants, and a commitment to safety. At Poseidon Diving Centre, we offer a 14-day PADI Diving Instructor Course that covers everything from the basics of teaching scuba diving to advanced techniques for managing risk and building confidence in your students.
What are the Qualifications We Need to Do the PADI Diving Instructor Course?
Before you can become a PADI Diving Instructor, you need to have a certain level of qualification. This includes being at least 18 years old, having a minimum of 100 logged dives, and having a minimum of 6 months diving experience. You also need to have the PADI Divemaster certification or equivalent, and an Emergency First Response Instructor certification or equivalent.
 Theory Parts in PADI Diving Instructor Course
At Poseidon Diving Centre, we believe in a hands-on approach to learning. However, there are some theoretical concepts that need to be covered before you can become a PADI Diving Instructor. We approach this in a variety of ways, including online tutorials, classroom discussions, and quizzes. We want to make sure that you have a solid understanding of each theoretical concept before you move on to the practical elements of the course.
Practicals for PADI Diving Instructor Course
The practical elements of the PADI Diving Instructor Course are where the real magic happens. You'll spend most of your time in the water, honing your skills as a diver and instructor under the watchful eyes of our experienced team. We'll take you through a range of scenarios and exercises to help you build confidence and skill, from open water dives to confined water training.
PADI Diving Instructor Course Schedule
Our PADI Diving Instructor course is designed to be flexible and accommodating to your schedule. We offer full time  courses, spanning everything from a couple of weeks. You can opt to take the course in Hikkaduwa, Trincomalee or both. This gives you the freedom to learn at your own pace, and to find a schedule that works for you.
What can you learn in the PADI Diving Instructor Course?
Our PADI Diving Instructor course covers a wide range of topics, including teaching methods, risk management, leadership skills, and environmental awareness. You'll also gain hands-on experience in the water, learning how to teach different dives, how to work with different student skill levels, and how to manage group safety.
What You Improve After Completing the PADI Diving Instructor Course?
One of the biggest benefits of becoming a PADI Diving Instructor is that it allows you to turn your passion for diving into a fulfilling career. Once you complete the course, you'll have the skills and knowledge necessary to teach students of all levels and help them discover the thrill of diving. You'll also gain a deeper understanding of the ocean and its delicate ecosystem, and be able to share the importance of conservation with your students.
Where you can follow PADI Diving instructor Course in Sri Lanka?
This course is available at all Poseidon Diving Centres. Poseidon diving center is the first five-star PADI diving center in Sri Lanka and has been in operation for 50 years. OWD certification is available at the best price in Hikkaduwa (October to April South Coast) and Nilaveli Trincomalee (April to September East Coast).
South Cost
Hikkaduwa Diving Centre
November – April
East Cost
Nilaveli Diving Centre
April – October