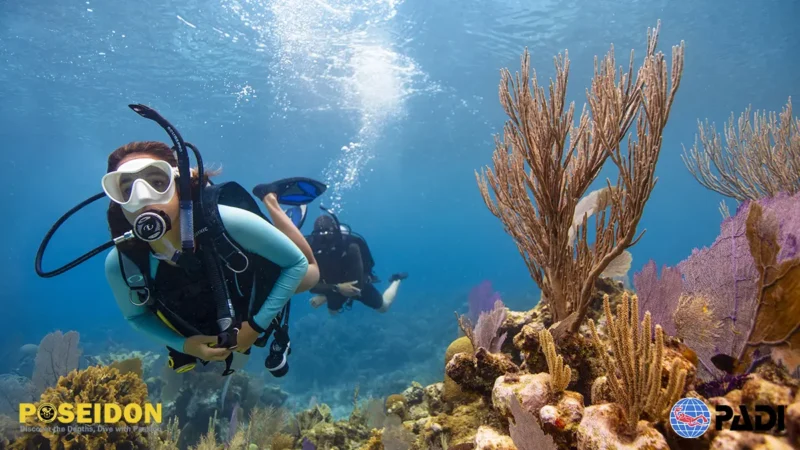 The PADI Scuba Diver course with Poseidon Diving Centre Sri Lanka is the perfect way to become a certified diver and explore the spectacular underwater world. This 3-day course includes theory lessons and practical skills in confined water settings. After certification, you'll have the knowledge and skills to plan and participate in dives to depths of up to 12 metres, with the guidance of a professional dive leader. The course covers the fundamentals of scuba diving, including dive safety, dive planning, buoyancy control, proper breathing techniques and other skills. With this course, you can become a certified diver and explore the beautiful and rewarding underwater environment.
The PADI Scuba Diver course from Poseidon Diving Center provides an enjoyable and safe introduction to scuba diving. This program is designed for novice and experienced divers alike, and caters to a variety of skill levels by offering a range of modules tailored to suit individual needs. As part of the course, students will receive comprehensive dive theory and dive training conducted by experienced PADI Instructors. Upon successful completion of this program, you will be well-versed in scuba diving principles and techniques, able to safely dive to a maximum depth of 12 m/40 ft.
The course is held in Sri Lanka, a country renowned for its rich marine life and crystal clear waters, providing the perfect environment for divers of all experience levels. You will have the chance to explore an abundance of coral reefs, stunning shipwrecks and spectacular marine creatures like sea turtles and whale sharks.
The PADI Scuba Diver course from Poseidon Diving Center is an ideal way to experience the wonders of underwater exploration. With an emphasis on safety and enjoying the dive, this program ensures that students are fully prepared to explore the mesmerizing underwater world.